Fanny Fell was an ordinary working-class York lass, her husband worked as a comb maker, and by 1872 the couple had six children. They were raising their family on King Street. The area was dominated by the famous Clifford's Tower and the imposing Victorian Prison. The great irony in this is that unbeknownst to Fanny, she was going to spend nearly seven years of her life in its confines.
Not much is known regarding the specifics of her first crime, but we know she entered custody on 21 November 1872 and was charged on two counts of larceny (the theft of personal property) for stealing some beef and a pair of trousers. She was charged with six months of hard labour and was locked away in the very local York prison. Her daughter Rose was barely a year old and now had her mother ripped away from her.
Victorian prisons were harsh, inhospitable places with strict regimes imposed upon their inmates. In my research, I haven't come across any specifics regarding York prison at the time, but there was generally a difference in how men and women were treated. There was a real push for women to reform their character by reclaiming their "true domestic hearts", which was achieved by controlling every little aspect of a female prisoners' life.
Six months of dreary domestic labour, religious instruction, and degrading moral supervision dragged on, and Fanny finally re-entered free society as a marked woman. Sadly, due to the sexist attitudes of the time, she will have likely been notorious. This notoriety may have led to a breakdown in some of her relationships and made it difficult to find any work at all. Luckily, Alfred, her loyal husband, seemed to stick with her. Although we can't say the specifics of how both Fanny and Alfred felt about their relationship at this time, it seemed to be quite strong, indicative of true, near unbreakable love.
Another aspect found in my wider research of Victorian female prisoners was that although during the period there were fewer women were convicted than men, it was more likely they would re-offend. Perhaps this was down to the aforenoted factors which led to a downward spiral. Despite having unusual support from her husband, Fanny followed the pattern and was once again convicted of larceny in February 1878. She had stolen some wool and two skirts and was locked away for nine more months.
After being released later that year, Alfred and Fanny may have decided they needed a change and, therefore, by 1881 moved to London. Thanks to research done by a cousin, the conditions where the family moved to (Nisbet Street in Hackney) were appalling. The houses were built in the 1870s upon a strip of gardens and had a squalor, cramped and plainly awful conditions. At the time, this may have been seen as alright, but there is no justification for the living conditions people suffered through. It was simply immoral and unacceptable.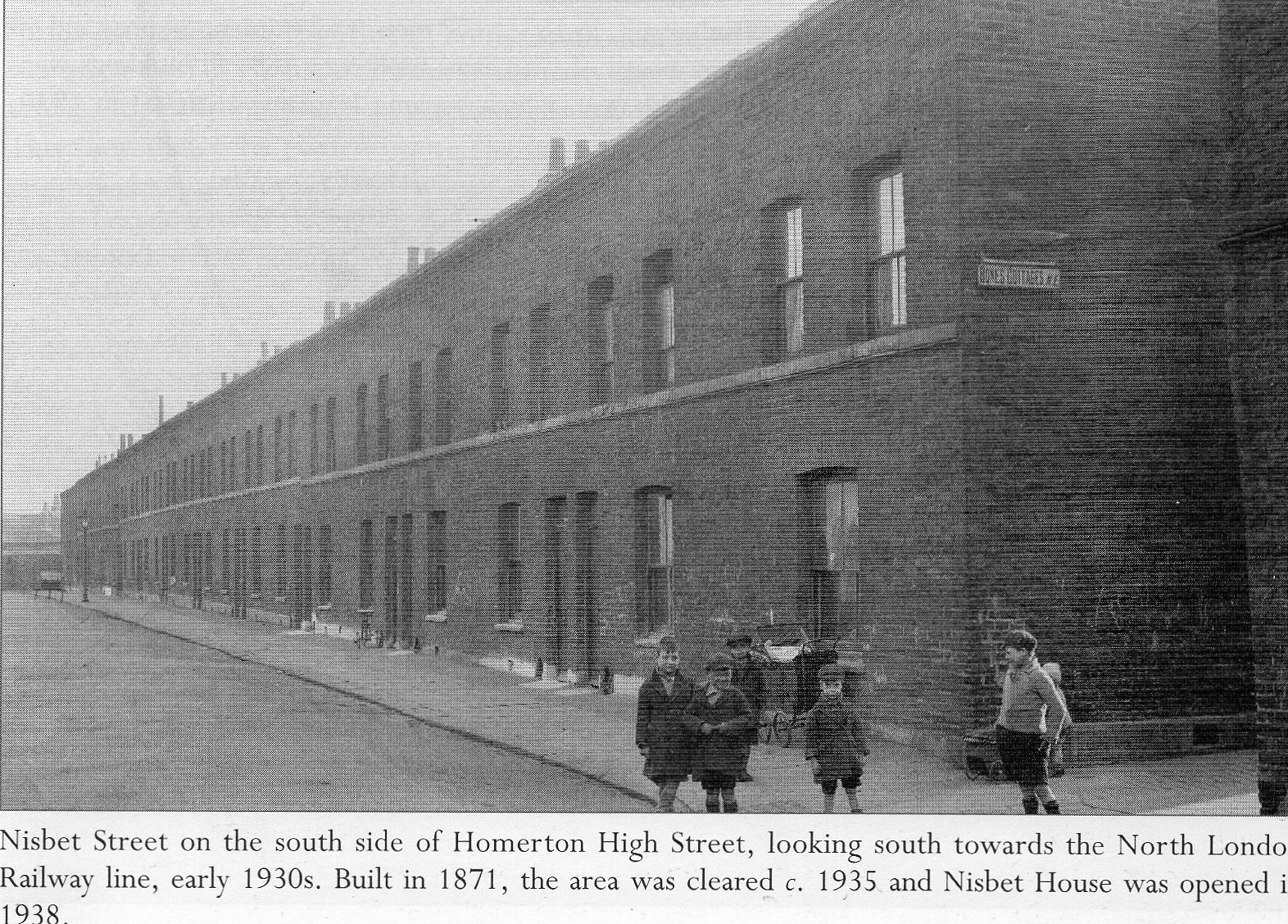 I'm a Yorkshireman through and through, however, so I don't want to focus on this move to London too much. Instead, I frame it as a detour as the family were back in York by 1882.
In late September 1882, Fanny rose early on a Saturday morning and visited William Hansell's shop to price a pair of boots. Whilst in the process, she walked off from the general dealer's store but was soon caught redhanded and brought back to the shop. The reporting of the theft liked to emphasise the fact that she let the stolen boots fall to the floor when she returned to the shop, but I don't understand what they expect of her? She certainly wasn't going to be happy that she was caught. However, her feelings were irrelevant, and she was sentenced to another three month's hard labour.
She was set free early in the New Year but would return to the prison not even eight months later when she was caught stealing again. This time, she stole a stuff skirt from Ernest Haythorne's shop. She was actually in the process of carrying the skirt away when Ernest's brother caught her and handed her to the police. There was much scoffing and disdain when Fanny stated that "drink did it". Ignoring the scoffing, this comment gives us a unique into her mind. She was obviously suffering because of her crimes which were caused to an extent by alcohol. The notoriety and grim life she lived through likely led to more drinking and then crimes. A vicious cycle of despair – Fanny's worst enemy was herself.
She spent another twelve months doing hard labour and stopped offending (or wasn't caught) for two or three years. This time, in 1887, she went to John Jackson's shop and asked if she could look at a hat in the afternoon, and when leaving, she grabbed a brush hanging from the door. This was witnessed by a lady called Mary Burley, and soon after, P.C. Mason apprehended her. She admitted the theft and was once again sent to prison, albeit for a longer sentence of 18 months and one year's police supervision was also attached to the sentence.
1890 rolled around, and Fanny likely turned sixty; both Fanny and Alfred were getting older and had a fair few grandchildren. However, this didn't stop Fanny's compulsion to drink and steal, and she was once again sent down for a year's hard labour with an increased two year's period of police supervision. I term it a compulsion down to another quote from Fanny's mouth that "she couldn't help it" after she was handed to the police once caught.
Three years later, in April 1893, Fanny was once again before the Lord Mayor, accused of stealing a cloth jacket from the door of George Merriman's shop. Once accused, the police searched her house and found the jacket situated between the bed and mattress. In an almost heartbreaking way, at least to me, Fanny asked the police officers, "Will you do the best you can for me?" and further stated, "I am sorry I took it". Undoubtedly Fanny was probably only sorry because she was caught, but I find it admirable that she never tended to deny her guilt. She was always able to face up to her actions. She was once again sent to York prison.
She left prison on 5 May 1894 after serving her twelve months of hard labour. She had spent her final months of this term of imprisonment throughout a severe winter. I wonder how Fanny felt when her lightly pillpocked (marked by smallpox) skin felt the air of the city again, or how she felt when seeing her family again through her hazel eyes. Did she smile when she saw Alfred, showing the few teeth she was missing? Was she welcomed at the gates or left to walk home alone? If so, was she easy to spot walking down to the family home on Laurence Street by the distinctive situated above her lip on the right-hand side of her face?
Her final recorded crime occurred in 1895 when she was around sixty-five; she stole a shawl from a local shop. Just as she made her exit, a shop assistant noticed it was missing and ran out into the street, where they found it wedged between the apron that Fanny was wearing. It feels incredibly monotonous to repeat the fact that she was sent down for a year's hard labour. But, intriguingly, the jury actually recommended that she was granted some mercy in the sentencing due to the fact she was of an "advanced age".
We haven't spoken much about Alfred regrettably, but her conviction led to a poignant piece of reporting. We have Alfred's direct testimony declaring that Fanny "was a good wife when sober" – perhaps adding further credence that her stealing was a compulsion brought on by alcohol. The fact that was Alfred was dead within less than two months adds more weight to his testimony. He clearly loved his wife and was willing to defend her after a life of absolute turmoil.
The loss must have been significant to Fanny but what must have been worse to her was the fact that she probably didn't get to be with him when he passed away on 16 November 1895. He was buried in a public grave (18875) at York Cemetery not long after his passing – it is unclear if Fanny was able to attend. It is clear that Fanny regretted her crimes, but what must have stung more was that she probably missed her husband's funeral for the sake of a shawl.
By 1901 she had moved onto North Street, Castlegate and her twenty-year-old granddaughter, Mary Jane Fell, lived with her. She worked as a laundress whilst Fanny, now about seventy, stayed at home. A few years later, she passed away on 26 June 1906 and was buried in a different public grave (19402) to her husband. A sad irony is that they were divided by bars in life and also divided in death.
At first, I didn't know how to feel about Fanny's life and found it hard to reconcile her actions. However, over time and after undertaking more detailed research, I have developed a surprising fondness for her story. She may have been a criminal, but she was only a petty one at that and one who always seemed to be caught. I accept that she was causing damages to others by stealing things, but they were replaceable. Her husband's funeral, raising your children and cherishing your grandchildren were things Fanny stopped herself from doing/attending. As I alluded to before, Fanny was indeed her own worst enemy, and I hope that in death but also the final years of her life, she finally found some peace.
It might be controversial to some, but I can proudly claim Fanny Fell as my Great Great Great Great Grandmother.