In order to know someone's life story, you do not need to know everything, and Anthony Metcalfe's story, my Great Great Great Great Grandfather, proves this concept. We know a great deal about his character via a telling account of his demise and a few other key events of his life and can tell his life story despite some apparent gaps.
Therefore, to begin, despite not knowing too much, let us confront what we do know – Anthony's date and place of birth are wildly inconsistent. For example, his documented years of birth range from around 1822 to 1824. Alongside this, he reports, on censuses ranging from 1851 to 1881, that he was born in Birstall once, Bradford and on two of them Wensleydale. In 1846, he lived in and around Bradford, so he lived there at some point and lived in Birstall for most of his life. Because these places of birth came from census data, and we don't know precisely who the informant was, this could explain them away.
Either way, the first documented record of Anthony Metcalfe's existence is his marriage to Mercy Ainsworth on 23 February 1846 at Bradford Parish Church. Anthony is described as 21-year-old Batchelor Collier, who resides in the village of Allerton, which is close to Bradford. He seems to take after his father, who is also recorded as being called Anthony and also recorded as working as a Collier. Mercy, his wife, lived in Manningham, and as we will later find out, it appears that he moved to live in her area after their marriage.
Their marriage is quite an interesting one – chiefly down to Mercy's young death at the hands of unknown causes in the April quarter of 1846. Sadly it didn't last long, but I feel a few questions could be asked regarding its length – when the couple married, was Mercy already unwell? Was it rushed, perhaps due to an illness? Or was it just another Victorian tragedy that unfolded down to the toughness of the era's life?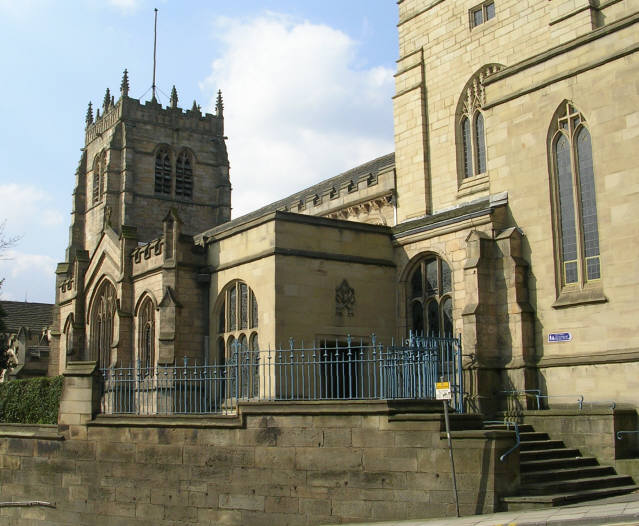 Anthony remarried at the end of 1846, specifically on Boxing Day, 26 December 1846, at the same Church. He had moved to Manningham, but nothing much else changes barring a new witness on the marriage record – a William Metcalfe, perhaps a brother or cousin? His new wife was called Sarah Blackburn and also had a similar mysterious background.
The early years of their marriage were quite inconsistent, in the sense that they took quite a while to settle down and seemed to quite regularly move around. They remained in Bradford for a year or two, with their first born child, William, been born in the October quarter of 1847 but didn't stay for long.
Perhaps in order to seek out more stable work or better conditions and pay, Anthony and his young family moved to the village of Wingate in Durham by the birth of their daughter Elizabeth in January 1849. The Colliery there had opened in 1839 by Lord Howden and Partners, and on the 1851 Census, Anthony and his family are recorded as living at the Colliery itself, alongside a lodger. However, this detour into living and working in Wingate didn't last long, as by the birth of the couple's next child, John, in 1853, the couple had likely moved back to Bradford and its surrounding areas.
In the next two years, ahead of the birth of another son named Smith in 1855, the family settled in Birstall, and the period of inconsistency finally came to an end. His birth was followed by a brother Joseph in 1856 and two sisters – Annie and Harriet, my Great Great Great Grandmother – in 1858 and 1860, respectively. The family resided in Howden Clough in 1861 and remained in the same area in 1871. However, that year's census does give us an address – specifically "Brasscastle", which I take to mean an area of Howden Clough, which was near to the Brass Castle Colliery. This makes sense as many neighbours work down the pits on both censuses, and it fits in with Anthony's past.
There are two more quite intriguing things to note about the family in 1871. Firstly, Elizabeth got married to Daniel Simms in the first quarter of the year, and he had moved into the Metcalfe home shortly afterwards. Clearly, this added an extra mouth to feed but also a little more income, so I assume he was welcomed into the household. It was very kind of Anthony to allow them to adjust to married life and begin to start building their own family. It is not only the human members of the Metcalfe household that were highlighted in this period, as it is noted in the Dewsbury Reporter that Anthony was charged for allowing his dog to "be at large" without a muzzle, I assume, and he was fined a total of 5 shillings. It was not enough to ruin the families' finances, but still money they would have preferred to have!
Death again struck Anthony's life with the death of his wife Sarah on 5 April 1879 when she was just aged 48. She was buried at Birstall Parish Church four days later, on 8 April 1879. I will never know Anthony's feelings towards his wife and her untimely death, but I do know that a death notice was published in the Batley Reporter and Guardian for her. This isn't unprecedented and doesn't necessarily mean much, but we must not forget Anthony was a working-class coal miner. It mightn't have bankrupted him, but he clearly cared enough about his wife to invest some of his genuinely hard-earned money into remembering her. To me, at least, this shows a devotion to his wife and her memory, and I hope it also indicates a relationship of respect.
Two years or so after this, on the 1881 Census, Anthony is recorded as still residing at "Brasscastle" but in very, very different circumstances. He had gone from living in a household of seven to living on his own. He no longer had a wife to look after him nor extra income from his older kids or the antics of his younger children messing and playing around. Everyone had grown up or died, and although his family remained living near, Anthony was alone. According to the census, he was also out of work. I am unsure when Brass Castle Colliery shut as there is little online information, so perhaps he was simply between jobs? Also, Anthony became ill with bouts of diarrhoea in the mid-1880s, so perhaps illness also factored into this fact?
1885 is also an interesting time for Anthony, for he is involved with the police. He has committed no crime as he was a mere witness, but his blood had – specifically his grandson William Simms. 10-year-old William visited his grandfather on 18 August and presented a bell that he claimed he and a 14-year-old Alfred Dale had found in a corn field. As it would turn out, after a visit to his house by the police, Anthony was gifted something stolen by the two lads from the Volunteer Inn. They had stolen a clock, a spell, a lamp and two table bells and hidden them near the Howden Clough Rifle Range and a field on Windmill Lane. The lads were apprehended and owing to their age and the fact it was their first offence, each were fined 10 shillings and costs, or 14 days. Obviously, I doubt Anthony would have been happy with this, but it shows us that he saw some of his grandchildren and that he had a relationship with them.
I did miss out on a key event that happened to Anthony in 1882, namely his remarriage again to a widow named Mary Grayshon. This remarriage represented a chance to live a life not lonely, and Anthony was in many ways quite lucky to get this second chance, but it wasn't to last too long.
Anthony went to work on 11 February 1887 like any other day. It must have been an early start as he met a colleague, Solomon Wallace, of Low Lane, Birstall, at about 6:15 am. The pair worked at the Howden Clough Pit of the West Yorkshire Colliery Company – Solomon worked on the east side of the pit, and Anthony worked by himself in a nearby bank. They both got on with their respective work, and Solomon causally saw Anthony a few times before hearing the roof falling and a loud crash. He instantly called out for Anthony and heard the reply, "o' come here". Solomon rushed towards him, and owing to a slip that could not be seen, a large rock had fallen onto Anthony's leg. The hurried had arrived to see what had happened soon after, and Solomon sent him for help. Eventually, after what probably seemed a painfully long wait, Anthony was set free.
He was rushed to the Cottage Hospital as it appeared his leg was broken in two places, and he was admitted between 11 am and 12 pm. Mary Ann Boulton, the widowed Resident Nurse, described Anthony's leg as having a compound fracture of the right leg but that no bone was protruding from it. He was badly bruised from his shoulder to his right arm, which quickly healed, but the legs sloughed (skin falling off) from the knee to the ankle for about three weeks.
As mentioned before, he had regular bouts of diarrhoea, and these appeared to come back once the sloughing had healed. These bouts quite dismally led to Anthony developing gangrene of the bowels, which led to his demise. Boulton described Anthony as 'gradually' sinking before his death, perhaps indicating how painful it was for him. Conceivably mercifully, in a way, he died, aged approximately 63, on 15 April 1887, at around 8:50 am. He was buried at Birstall Parish Church's Churchyard on 18 April 1887.
There is an irony to the fact we know so much about his demise but so little about his birth, but what we do know paints a picture of a man who lived lots. Despite the limitations of his class and the tough, brutal conditions of the society he lived in, he managed to survive until the end. He also survived two marriages and raised seven children, saw different parts of his country and left enough records of his soul and actions for his Great Great Great Great Grandson around 135 years after his death to proudly claim him as his own.